Informazioni sul software:
Nome file:
taw5_trial_5.1.3.57_setup_en.exe
Aggiornato:
2 anni fa
il 22/10/13
Downloads effettuati:
1019
Sistema operativo:
Windows XP, Vista, Win 7
Lingua del software:
Inglese
Licenza utilizzo:
Trial Version
Sito ufficiale: Clicca qui per il Link.
Dimensione su disco:
205,5 Mb
Tempo download:
11,39 minuti con Linea ADSL 2464 Kb
Hai scoperto un nuovo Software??
Segnalalo Qui!!
TMPGEnc Authoring Works 4 is packed with features to help you create professional-looking DVDs and Blu-ray Discs that you'll love to share with friends and family.
Each TMPGEnc Authoring Works 4 project is divided into 5 stages: Start, Source, Menu, Simulation, and Output. Simply complete each stage in order and you'll have a custom DVD or Blu-ray Disc movie in no time. You can even go back to previous stages to make changes, or skip certain stages depending on your needs. Various wizards are included to help guide you through more complicated tasks, such as menu creation and file importing.

TMPGEnc Authoring Works 4 will automatically convert a vast array of video file formats to DVD, Blu-ray Disc, or DivX formats. You can even convert your AVCHD videos and keep them in full-HD (1920 × 1080) when you output to Blu-ray Disc.

It can be tedious to look for all of the scene changes in your video clips, especially when you've got hours of footage. This is where Smart Scene Search comes in. While editing, all you have to do is click your middle mouse button to the right or the left of the playhead in the thumbnail preview to automatically find the next or previous scene change. This makes it easy to set key frames, find a good place to cut scenes, or split your clip.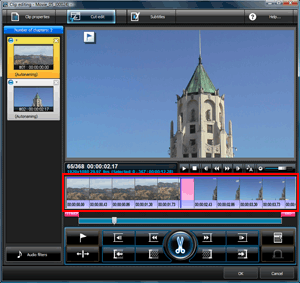 Just click with the middle mouse button in the thumbnail preview to find the next scene change.
Add up to two subtitle streams to your videos with the subtitle editor. Import subtitles from a DVD or create your own with tools for positioning, timing, font styles and more. Create multi-language subtitles or use it for the hearing impared. Subtitles also work great as captions for slideshows too.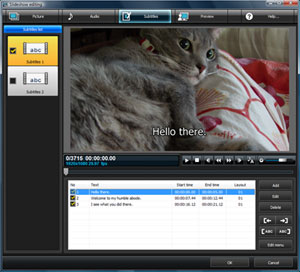 What's a DVD, Blu-ray, or DivX ULTRA disc without a nice menu? The menu wizard will guide you through the menu-making process, allowing you to create menus in standard and high definition with aspect ratios of 4:3 or 16:9. You can even create pop-up menus with your Blu-ray Disc projects. Of course, you can choose not to create a menu at all as well.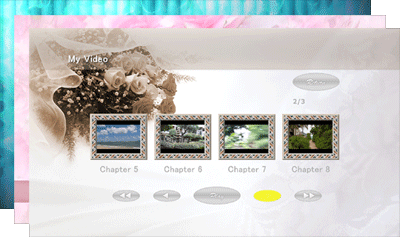 Smart Rendering allows you to output DVD or Blu-ray Disc compliant MPEG-1/2 video without having to re-encode the entire movie file. This makes output extremely quick, and when you cut out a scene, only the video frames before and after the cut section will be re-encoded, saving you a ton of time and keeping the same quality as the original source file. Applicable clips will have a Smart Rendering icon in the Source stage of the program.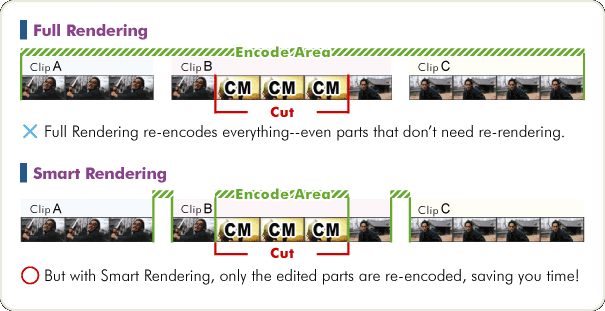 See what your Blu-ray/DVD/DivX project looks like before you output it with the Simulation feature. This will reproduce what your project will look like when you put it in a real DVD/Blu-ray player. Test out your menus, audio tracks, subtitles, and menu item effects that you've applied. We've even included controls that mimic a DVD remote so you can see what it would be like to navigate through your menus. Don't like what you see? Go back and make changes, then test it again.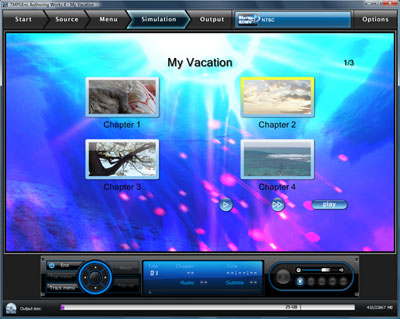 Sometimes you might have so much content that you can't fit it on the DVD. What do you do? You can get rid of some clips, or you can use the transcode feature which can automatically adjust the bitrate of your movie so that it will fit on your target media. Simply set your target media (DVD, Blu-ray Disc) or set a custom output size and TMPGEnc Authoring Works 4 will do the rest.
Please note that while lowering the bitrate decreases the file size of your movie, it will also decrease the quality as well.